VISIT THIS SITE TO SEE THE RECORDED EVENT
​We invite you to the third INSPIRE seminar this spring, with artist and social anthropologist Cecilia G. Salinas.
​This seminar will be a hybrid event, taking place at PRIO (Hausmanns gate 3) and on Microsoft Teams at this link.
Please register in the sign-up form on this page to attend.
In her presentation, Cecilia will focus on selected artworks that are part of her series 'Wound' (Sår) to discuss how an art-based approach can assist scientific research on sensitive topics like trauma. Working with images and literary texts might deepen the researcher's understanding of that which exceeds words. There are certain painful experiences that can destroy language, and as such surpass scientific descriptions. Furthermore, telling and listening to stories of trauma and pain might have a strong emotional impact on those involved in the conversation. In this sense, artistic images and literary texts might not only offer a language of communication for what is inexpressible through scientific words, but also offer the research participant and the researcher a tool of recovery.
The series 'Wound' (Sår) consists of 11 paintings and poems which unfold the topic of trauma and childhood. The artistic project combines personal experiences with stories Cecilia has gathered through field work and different life experiences.
To read more about Cecilia and her work, visit her website.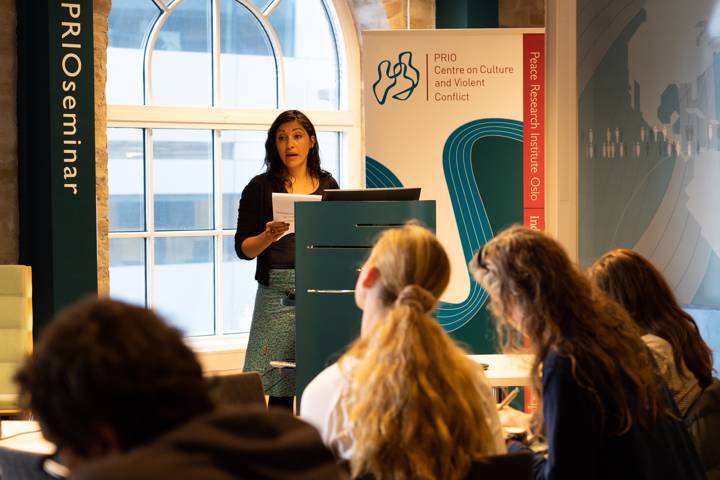 Cecilia G. Salinas Photo: PRIO / Vera Lind Hansen
The INSPIRE seminar series is a monthly online space where we explore arts-based methods, collaborative methods, ethics of doing research with artists, art as transformation and engaged scholarship – all in the context of violent conflict and war – with invited researchers and artists. The seminars are open to all interested in these topics.