Throughout history, the historiographic canons in Argentina have made the production and trajectory of important female creators, visual and scientific artists invisible. Indigenous women, for their part, have been victims of the cruellest of forgetfulness: silence. The fine arts and science have been monopolized by limited canons with a genealogy coming from hegemonic sectors in Europe. Having the possibility to be part, in particular of these two disciplines, has been totally conditioned by social class and the economic resources that the person may or may not have. Therefore, there are few indigenous women in the fine arts and sciences. And a real recognition of their contribution is yet to come.
For this reason, on Women's Day , I want to call attention to the situation of indigenous women. I choose science and fine arts because they are two professions that touch me closely, but I could just talk about indigenous women in general, in Argentina or Norway. The situation of Sami women for instance. A few weeks ago, we witnessed the abuse of Sami women and their people and their rights. We saw how adolescents with their koftes were carried against their will by uniformed representatives of the Norwegian state, denying them the civic right to protest.
In Argentina, indigenous women don't figure in history books as heroines of the homeland, as creators, builders, or makers of a country. They are stripped of all contemporaneity. They are presented with obsolete images from a remote past, wrongly called nomadic, or primitive. Today, in the year 2023, they are still not listed in museums as mothers of the country. Not even in universities. Not even in the name of the streets, or of the parks. They are sometimes seen on street murals. They paint themselves by painting their ancestors. They don't win Nobel Prizes in science. They are not heads of departments at universities. They are not ministers of science or culture.
But they are. They resist. They are mothers. They always have been. Mothers of the earth, of animals, and of water, and of the forest. Ancient mothers who, thanks to them, their strength, their integrity, resistance and love, their families today, despite the cruellest genocides, are still alive, and their descendants feel proud and recognize themselves as being indigenous in an Argentina that still rejects them as their own children.
Professional indigenous women are made invisible, but they exist. They fight. They make way so that their children can be what they want to be. I know an indigenous scientist. She is my friend. She is from the Aigo community, in Neuquén. Juana is Mapuche, she is a biologist, a Mapuche-biologist. She, faithful to the knowledge of her people, maintains the fact that water is a being. Some talk with the water, she tells me. Water has strength, nehuen (in Mapudungun it means strength, spirit and soul). And to protect it, you have to take care of the water, and relate to it with reciprocity. Juana Aigo is the only one of five siblings with a doctorate. Juana is the only one in her environment. She is the beautiful odd one out that uses science in defence of the Mapuche people and their knowledge and ways of being in the world.
Not only as part of local knowledge to be protected but demonstrating the value of understanding territorial relationships from other perspectives. The value of these territorial relationships: to think about communality, because «nobody can save themselves alone, she says.
– What if we tried to see the world through other lenses?
-What if the solution to the many challenges is through another path than the monopolized canon of science persists in naming as the only one.
– What if we left our place of comfort for a moment to step into other realities?
Being a researcher and an indigenous person is not easy for us, Juana tells me. My people are not my informants, they are not objects of study, and their lives are not sources of raw material to extract to do science. It is my community, with strong roots, identity and rights. We have suffered and continue to suffer abuses on a daily basis, we are discriminated against, and treated as terrorists for demanding what was stolen from our grandparents with impunity and that continues to be stolen from us. Although I am Warriache — in mapuzungun warria means from the city; che means person, "a person from the city"— my relationship does not end when a project ends. My relationship is ongoing, demanding, and requires commitment. And in the academic environment, the struggle is also arduous, not only with respect to being taken seriously, so that indigenous perspectives count as valid, but also because if you do not speak English, you are left out of the knowledge exchange circuits, of travel, of possibilities of being heard there where science is validated. It's as such, so this is what I try to convey to the youth of the communities. The awareness that knowledge and words are our best fighting weapons.
And my struggle is also on the side of being a mother, a lucky mother of two children. And I feel a lot of empathy and commitment to other mothers. During the pandemic, the responsibility that women have for raising children, cooking, breastfeeding, schoolwork, work, relationships and responsibilities within the community and the fight for territory intensified. These struggles are continuous, they are daily. For this reason, organized, urgent and forceful collective actions are necessary.
In Puelmapu, known as Argentinian Patagonia, the patriarchal and racist power structures that oppress and even kill women are increasingly evident, as well as voracious capitalism and private property increasingly impoverishing the population. Today in Argentina there are Mapuche authorities such as Machis (Mapuche healers) being held as political prisoners together with their small children. They are being deprived of liberty for wanting to develop their own Mapuche way of life in their highly valued and coveted territories. It is a struggle that does not end. The same struggle that our grandparents, parents and now we have to face, does not end, says Juana.
And luckily Juana has family and community practices to strengthen herself, recover and continue the struggle, and to keep writing, researching, contributing to create changes.Juana weaves with the stories of her people. Just as other indigenous women weave baskets, or ponchos or artistic pieces.
"Who writes, weaves. Text comes from the Latin, 'textum' which means tissue. With threads of words we are saying, with threads of time we are living. The texts are like us: fabrics that walk", Eduardo Galeano wrote.
I know many Mbya Guaraní women who weave. They weave with flat bamboo threads. They weave stories. Each basket carries a story. My Mbya friends make beautiful baskets that are not categorized as pieces of art. Handcrafts, experts say. My Mbya friends' beautiful baskets of stories don't look like each other. They are unique pieces; they all have different stories interwoven. But power rules and the canons say that they are handcrafts. They are not pieces of art. And whoever has the power has the power of definition.
The same thing happened to Claudia Alarcón. Claudia is a Wichi artist. She has been knitting for several decades. She weaves with fiber and wool. She weaves colorful images. She lives in a Wichi community next to the Pilcomayo River in the province of Salta. She is from a walking culture, a culture in movement, like so many other populations of wandering native peoples (wrongly called nomads) the Wichi people have been forced to settle in one of the most forgotten places of the Monte Chaqueño of Salta, in a semi-arid climate, always dry, deforested forest, looted by logging corporations in search of carob and more land to plant soybeans, and hunger.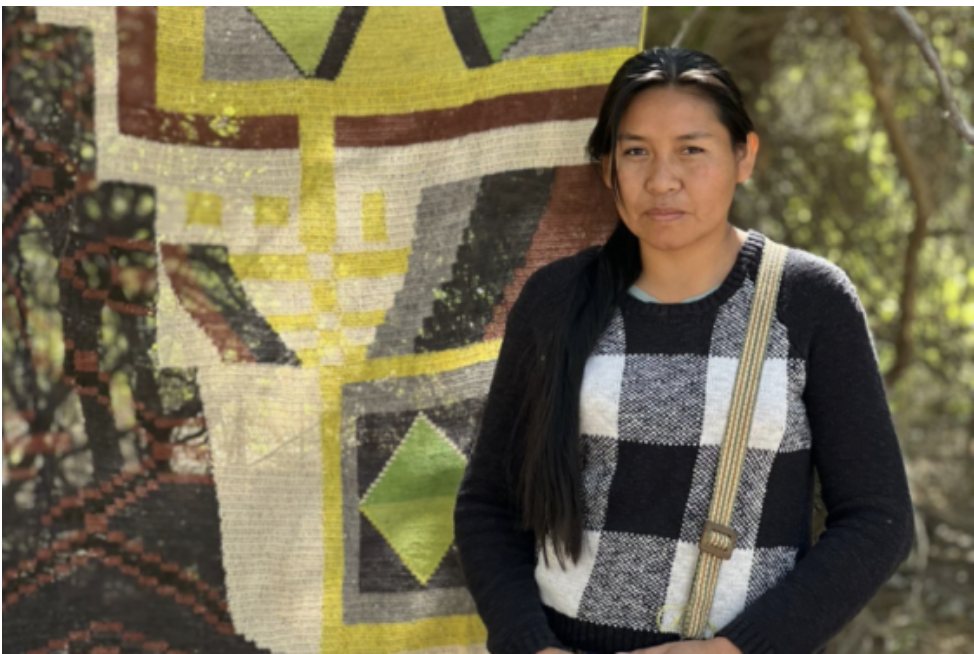 For a long time, Claudia's fabrics were handcrafts. In October 2022, at the age of 33, she was able to sell some of her fabrics as art for the first time. The same fabric, one day handcraft and the next day art. thanks to the director of a museum with another vision and perspective of the world. The fabric is called Ifwala Iha I (Glow of the Sun) and is made of chaguar fiber and old stitch.
Just two months later, in December 2022, Claudia Alarcón became the first Wichí artist to win an award at the National Hall of Visual Arts. The National Palace of Arts of the Ministry of Culture of the Argentine Nation has given this award for 110 years. It is the first time that an indigenous person, and even a woman, won it. Although we have reached the year 2023, Claudia is perhaps the first Wichí to exhibit in an art gallery, to win a national recognition award, being herself and recognised herself as indigenous, and currently living in a community. She is the first indigenous artist whose work became part of the collection of the Museum of Contemporary Art (MAC) of Salta and as such patrimony of the province. Juana and Claudia are two of several indigenous women working in science and art. They contribute to creating bridges, to decolonizing the canons, to opening doors in hope that, perhaps and fortunately in the not-too-distant future, the professional indigenous women in Argentina can be many.
Juana, Claudia, my Mbya friends are Mbareté porá women. Mbareté refers to strength, bravery and courage, and porá refers to truth, purity, and genuineness. Mbareté porá. They are Guarani words. I name these women in that way because Spanish is not enough for me, because my mother's Guarani language calls me, like river water that seeks the sea.
I am also Guaraní. Unfortunately, the colonial history has ensured that there is no record of who, I also am. I don't know who my ancestors are, but my body knows it. My skin colour knows it, my facial features know it. My mother was denied the language and she learned it as best she could, speaking it in secret. And because of so much denial, she didn't pass it on to me, she refused to give me the stigma. My parents are not only indigenous, they are mestizos, but I know very little about our ancestors. My grandparents knew little or nothing of theirs. Indigenous practices survived coloniality by hiding in the rural part of the Corrientes and Formosa provinces.
I know a little about that. I am mestiza, I am porteña and Correntina, and Formoseña. I am from the countryside and the city, and from Argentina, and after more than two decades, I am also from Norway. I am an artist and an anthropologist interested in marginal perspectives of all kinds. Racism, poverty, inequality, injustice, lack of representation. And I share with Juana, Claudia, and my Mbya friends, a humble background of material poverty, discrimination and racism.
Juana wrote about our encounter:
A social anthropologist but also an indigenous professional who, looking at her as a «lamgen» (a sister in Mapuzungun) leads me to the encounter of deep native roots, of suffered, proud and humble childhoods, deeply marked by colonisation. Our views on colonisation are not abstract, our experiences through the experiences of our families have marked us since we were children, they show us how to walk along paths that are not easy, but with firm purposes, like our original roots.
Therefore, I cannot speak in the abstract. I do not take for granted this privilege that has cost me a lot of effort to obtain. I was born in a poor neighbourhood in Buenos Aires. My parents have no formal education. My mother had until a few years ago only 5th grade, today she has completed high school. My father has 5 years of primary school. Children of poor farmers from Formosa and Corrientes. I arrived in Norway without knowing how to speak English or Norwegian, with a teacher degree in visual arts which was not recognised. I had to complete high school for the second time here, I did my bachelor's, master's and doctorate and now I am doing a post-doctorate.
I was a relatively young mother and a divorced migrant student with a small child. During all those years I never abandoned painting, or painting never abandoned me, despite my attempts to do so. Today I combine art and science. My path has been and continues to be long, difficult and winding because I don't have solid networks of wealthy or influential families and acquaintances to ease the way. In this sense, my situation, far from being unique or particular, is that of many women, and even more so for indigenous women. That is why on this Women's Day I would like to ask that, from our places, that we make room for those women that many systems try to make invisible. Let us not contribute to being complicit in unilateral and obtuse views that don't recognise the multiculturalism of which we are part of. Let us invite them, ask for them, seek them out, ead them, listen to them, respect them, even when we might disagree with their views. We all have that possibility and responsibility.
This might seem a obvious call in the proclaimed multicultural era, but it is not.
In 2021, the Museo of Fine Arts in Buenos Aires produced a publication «El canon accidental. Mujeres artistas en Argentina de 1890-1950«. It looks at the history of art and female artists in Argentina during 1890-1950 visible. This review includes, on the one hand, works by artists with a presence on the margins of art history and, on the other hand, works by artists who are practically unknown today, but whose activity earned them the admiration of their contemporaries. This valuable contribution. However, it is also an example of the continuation of the reproduction of traditional canons, which is why indigenous women artists, «artisans», are not included in the catalogue.
The struggle for the visibility of indigenous women is a struggle that should concern us all. As I have written elsewhere, their struggles for liberation are basically the struggle of all us. Their experience-close learning and knowledges challenge the hegemonic colonised imagination so marked by dichotomies, disconnection and fragmentation of our mind, heart and body. This challenge is necessary in order to gain new knowledge and perspectives that will lead us to find real alternatives for the protection and care of life on the planet, in all its diversity.